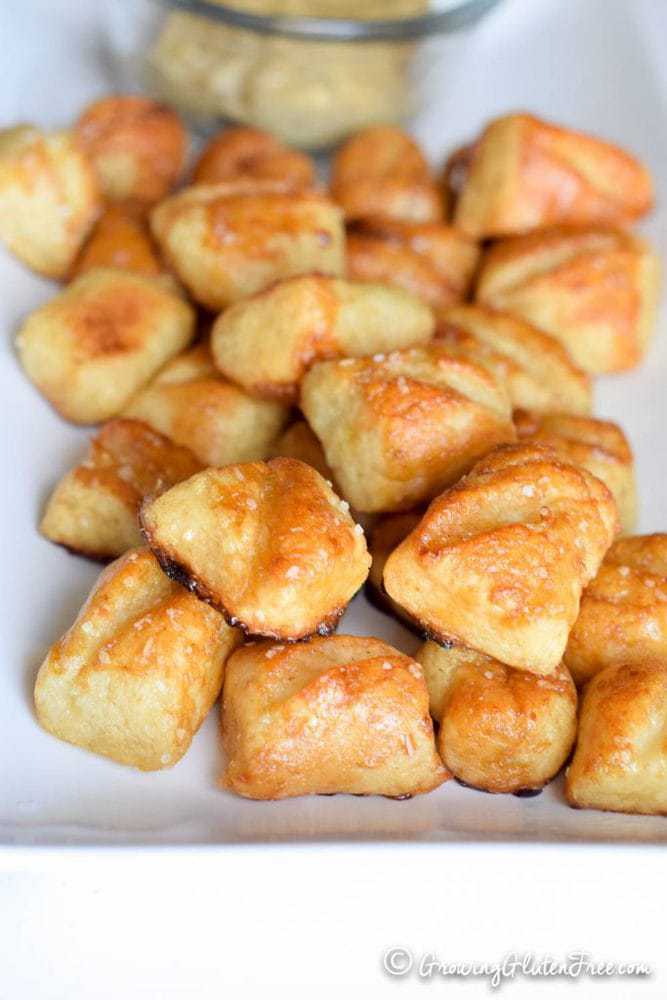 Gluten Free Soft Pretzel Bites
 Amanda Carlisle has an really good snack recipe for a gluten free pretzel. https://afewshortcuts.com/gluten-free-soft-pretzel-bites/
Ingredients
Pretzel Dough
1 1/4 cups water lukewarm (100º-110ºF)
2 1/4 teaspoons quick acting yeast or 1 packet
1 tablespoon honey
1 tablespoon psyllium husk whole/ or 1 egg for non-vegan
1 teaspoon salt
1 teaspoon baking powder gluten free
1/4 cup olive oil or softened butter
1 tsp apple cider vinegar
3/4 cup brown rice flour
3/4 cup white rice flour
1 cup potato starch
1 cup tapioca flour
1 tsp xanthan gum
Water Bath
6 cups water
1/2 cup baking soda
Topping
margarine dairy free
Kosher Salt
Honey optional
Instructions
Place yeast in warm water with sugar. Let sit for 5 minutes.
While yeast is proofing mix together dry ingredients in stand mixer. Once yeast is done mix it into the dry ingredients along with olive oil, and apple cider vinegar. Continue to mix for 1 – 2 minutes or until dough is will mixed and pulling from sides.
Place dough in a bowl greased with olive oil. Brush the top of the dough with olive oil and let it sit in a warm place for 1 hour or until the dough has grown by about 50%.
Preheat your oven to 450 degrees F and place a large pot on the stove with 6 cups of water and 1/2 cup of baking soda. Bring the pot to a rolling boil.
While the pot of water is coming to a boil. Turn dough out onto a parchment paper lined surface. Divide it into 6 equal pieces. Take one of the pieces and roll it (mold it) into a snake shaped piece about 12 inches long. Cut into 1 inch bites. Use a knife to score the top diagonally. Place the bites on a parchment lined pan. Continue this with all of the dough.
Carry the cut bites to the stove and drop them a few at a time into the now boiling water. Turn the heat down on the pot to medium heat now that it is boiling. Let them boil for about 1 to 1.5 minutes. Remove and place back on the parchment lined pan.
Spread the pretzel bites out on the parchment lined pan so they are not touching. Brush with dairy free butter, or olive oil. I mixed some honey with my butter (optional). Top with kosher salt or wait to season when they are done baking.
Bake them for 15 minutes at 450 degrees.
Remove and serve!
Freeze & Heat
You can store these in an airtight bag in the freezer. Just reheat in a toaster oven or microwave for a quick snack.