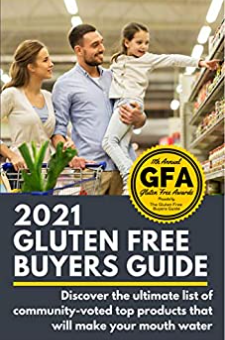 Ever just wanted to find out what everyone else is enjoying without the trial and error of picking a new gluten free product? It is expensive to follow a gluten free lifestyle and who has money to waste?
When I began my gluten free journey there were more products that ended up in the garbage disposal than in my stomach. Check out my blog on products that just didn't cut it: Not My Cup of Tea – GlutenFreeNtheDMV
An unspoken truth about gluten free foods is, "If tastes really amazing, it's not gluten free." That was 2013.
Products have gotten so much better since then. Better ingredients and presentation have pushed the market into one of the fastest growing markets in the U.S. The market is estimated to reach around 8 billion dollars in the next 4 years.
Enter the Gluten Free Buyer's Guide.
The Guided Buyer has an interesting concept of allowing sellers to list their products and then allowing buyers an opportunity to vote on which are our favorites. The highest voted products are awarded and labeled top product choices.
The guide started as solely an aid for celiac and gluten sensitive crowd but has over the last ten years branched out into dairy free, low-carb, and plant based guides.
I'm looking forward to seeing what is this year's top brands and products!
(I reached out to Josh at The Guided Buyer and will be a future social media influencer for the guide in the upcoming issue.)